Type 1: The Basics
Use the basics of characters and words to increase the efficiency and efficacy of your design work.
Watch Promo
Enroll in Class
Are you wasting time choosing fonts and debating design decisions? Are time and resources going down the drain while deciding what 'looks good?' Do your customers skip your messages without reading them?
It is FRUSTRATING trying to design for market appeal on top of trying to get people to read them too. How do you implement it all correctly and speedily? Choosing fonts, understanding grids, and selling those design decisions up the chain can seem impossible.
Remove the stress of guessing.
Imagine if you could design communications that attract customers, get read, and increase sales for you and your clients. Save time and make money. Feel confident in your design choices, whether it be for print, digital, motion or brand identity design.
You are already highly-skilled in your specific area, whether it be hand-lettering, sign-painting, logo design, type design, user interface, web design, signage, marketing or any other visual communication. Keep doing that. When it comes to typography, all you need to do is discover the essentials to make smart decisions.
"I'm currently taking a typography class at a university—we're about halfway through and I swear I learned more in any single TypeEd class than I have this whole quarter so far." — Liddy Padgett, Graphic Designer, InStyler
Use your typography mindset to persuade readers and improve your typography immediately.
In this class, Michael shares the basics of typography and what need to know when working with characters and words. He shows not only HOW to implement the fundamentals successfully in the software, but also demonstrates WHY it works that way. You will also learn:
What is type and where it comes from
Serifs, stories and other typographic terms
How humans read characters and words
The importance of horizontal and vertical rhythm
Absolute and relative measurements, how and when to use each
Classifications and how knowing and using them will save you tons of time
How the details of letterforms may alter your typeface choice
Gain a supportive network of like-minded designers.
With your access, you become part of the family. You'll be supported by a family that's headed by partners each with over 20 years of print, interactive and brand identity experience. TypeEd is a growing network of enthusiastic design professionals just like you, continually seeking to hone our typographic arts training. We also keep in touch daily through a private Facebook Group and conduct live Q&A topic video calls. Your typography and graphic design questions will never go unanswered, ever.
"I can't thank you guys enough for sharing your knowledge and experience in these classes. You now have a loyal student and I'm looking forward to taking many more classes in 2016!" — MaryAnn White, Art Director, Imagination Branding
This self-led typography course is NOT for you if you:
Enjoy guessing and struggling with execution through trial and error
Design based on personal preference rather than for the purpose of communicating
Prefer to piece together tactical tips from books and YouTube videos
Rather learn software tips and tricks instead of design principles
You learned typography in the phototypesetting era
You are a master at typography
This self-led typography course is PERFECT for you if you:
Want to save time and billable hours for you and your team
Prefer to learn from someone who has been doing this forever and knows what he's talking about
Want to train your eye and be able to set good type in ANY software
Seek demonstration of principles used to improve in ALL areas of design
Want a proven mindset that works
Know it takes time and practice to perfect any skill, but need nudging in the right direction
Lack formal typography or design schooling, or are a recent design graduate
Are a digital designer, or a print designer with work experience of less than 7 years
You'll see a difference in your own design work because this course will train your eyes on which techniques work to encourage reading, and which ones don't.
Course Curriculum
Let's Get Started
Available in days
days after you enroll
What is Type?
Available in days
days after you enroll
Where is Type From?
Available in days
days after you enroll
Your Instructor
Michael is a cofounder at TypeEd, and Creative Director at Ramp Creative. With over 20 years in the field of design, his identity and annual report work has been recognized by Communication Arts, Mohawk Paper, TDC, Graphis, etc. Conversely, he's served on the juries for the Ad Club, Graphis, the One Show Design and the Young Ones design competitions.
He was aerospace engineer major before getting into graphic design over 20 years ago, so he inherently sees systems and numbers. Michael got his start in the early 90s just as the industry was transitioning out of phototypesetting and into the computer. He's been refining a mindset that has simplified the process and helped him typeset everything from logos to books.
We've been teaching this class live for over 5 years and more than 500 students have taken it. Now you can enjoy the same class, extended, and ever-growing... and online for life.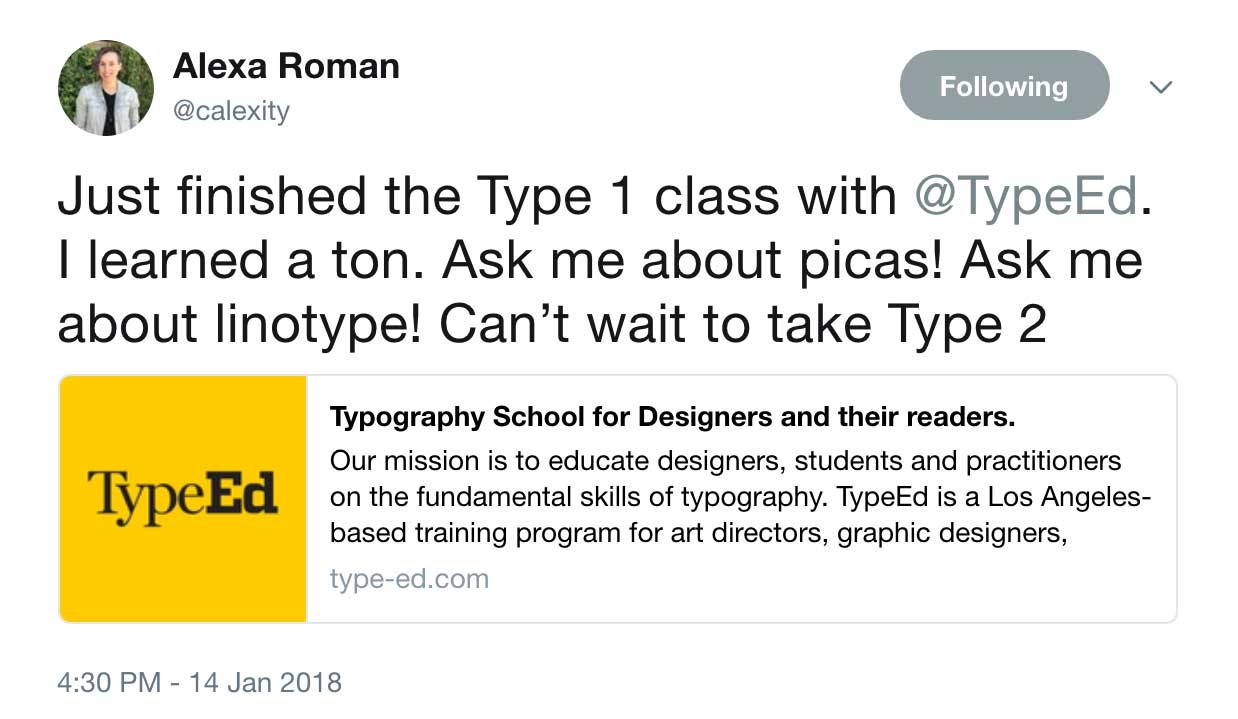 Frequently Asked Questions
Are there any commitments or on-going payments with this class?
Absolutely not. After enrolling, you get unlimited access to all our lessons and bonuses for as long as you like, across any and all devices you own.
When does the class start and finish?
The class starts as soon as you enroll and never ends. It is a self-paced online course; you decide when to start and finish, and can always refer back to the class content at a later date. We add content on a yearly basis.
What's the difference between Type 1 in person and Type 1 online?
The online class content is video and self-paced, so you can watch as quickly or as slowly as you need to. The online class is an extended version (compared to our in-person class) which includes handouts, guides and additional videos that focus on certain terms, which is not included in the in-person class.
I am deaf, how can learn?
Type 1 is completely captioned. And support is available in the course through live chat or comments.
After watching the video lessons, I'm still struggling with typography.
You'll receive support via our private Facebook community where Michael, Rachel and our generous Alumni Community gives feedback and advice to the work and questions posted. In addition, Michael and Rachel also hold monthly Alumni Q&A Calls to keep everyone engaged and learn something new.